Why do I need a pregnancy retainer?
If you are pregnant and your navel is pierced, your midwife will probably recommend that you remove any metal jewellery from your navel for the duration of your pregnancy. Most ladies do not want to risk letting their piercing heal up, which might mean having to have it re-pierced after their baby is born. Our pregnancy retainers offer a stylish way to keep your piercing open throughout the whole of your pregnancy, ready for when you are back in shape afterwards!
What are they made of?
Our pregnancy retainers are made up of a very soft and flexible PTFE (polytetrafluoroethylene) or bioflex banana bar featuring either one or two acrylic screw-on balls. PTFE is a non-stick substance which is frequently used for new piercings and so this, along with its soft and flexible properties, makes it very comfortable to wear. Note that the retainers do not stretch, but we do offer a wide range of sizes for you to choose from, and which will complement your piercing throughout the whole of your pregnancy.
Are they safe?
Absolutely. There is no metal content and so they are completely safe for both baby and you. In addition, they are extremely comfortable to wear, flexible and look great!
How do I fit them?
The end balls are removed, and replaced, with a simple screwing motion. Ensure that your hands are clean and moisture-free, as moisture will make it more difficult to keep hold of the balls. You should never pull or push the balls off or onto the bar, as this will wear the threading down - they should be screwed on, and screwed off. Also, when screwing them on, please ensure that you do not over-tighten them.
The PTFE bar is soft, when compared with the steel bars that you will be used to, and so please remember that the threading on the ends is not as durable. Your retainer will work perfectly when worn with loose clothing, however it is possible for tight waistbands to put a strain on the end balls and pull them off the bar. If that happens, you may be able to use an existing metal ball to screw a new threading onto the bar before replacing the retainer ball, but avoiding tight clothing whilst wearing your retainer would be the ideal solution.
Used with care, our pregnancy retainers offer the perfect way to keep your piercing open throughout your pregnancy, eliminating the need for you to have it re-pierced at a later date!
What size should I choose?
We offer our pregnancy retainers in lots of sizes between 8mm and 24mm. The measurement is taken along the bar in a straight line, it does not include the decorative end pieces. Please see the picture below for an illustration of this:-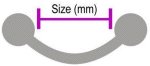 As a general rule, you should choose a retainer which is at least 4mm longer than the size you are currently wearing. Although, as you can imagine, every tummy is different and it's a bit like trying to work out what size shoes you will be wearing at the end of your pregnancy! The important factor, however, is that your pregnancy retainer should not pinch into your skin at any time - if you feel your retainer is getting that way then you should consider buying a larger size.
We have found that customers often buy two styles of retainers each in a different size - that way, they have a choice of two styles at different times during their pregnancy. The end balls 'mix and match' and will simply screw onto any of the pregnancy retainer bars within our range.
Custom Sizes - We are happy to make your retainer larger than 24mm if necessary. When ordering, please select 'Custom' from the drop-down Size box, and then email us after you have placed your order with the actual size that you require and we'll happily make that size up for you.

Further questions?
If you have a question which is not answered above, we would love to hear from you. You can use our
contact form
to receive a reply by email within one business day, or you can call us Monday to Friday, 9am to 5pm, on +44 (0) 1253 310265.