Back to Top
Industrial Piercing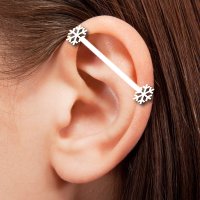 Industrial Piercing Jewellery
Industrial piercings incorporate two piercings located on the ear cartilage, linked together by one single barbell. Industrial piercings typically comprise a forward helix piercing and a helix piercing which results in the barbell having an almost horizonal look to it, however other directions using different piercing locations on the ear cartilage can be achieved as well.

We have such a fantastic range of industrial barbells below. From plain barbells to ones with decorative motifs, in colour finishes from simple steel to colourful titanium, we have something to suit every taste.

Not sure what size you need? Check the 'Barbell' illustration in our Sizing Guide to see how industrial piercing barbells are measured.

Don't forget you can always contact us with any questions about our range of industrial piercing jewellery.