Back to Top
Daith Piercing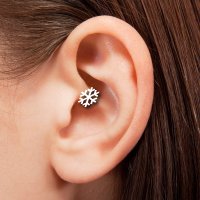 Daith Piercing Jewellery
Below you will see a huge choice of piercing jewellery suitable for your daith piercing. Most daith piercings are 1.2mm gauge - if yours isn't, or you're unsure what the gauge of your piercing is, our Sizing Guide for Beginners will help you.

You should also ensure that you select the correct diameter of ring/spiral, or length of barbell/banana for your daith piercing as this varies from person to person. Our Sizing Guide has illustrative pictures showing you exactly how body jewellery is measured.

Our Metal Guide is an excellent resource for finding out which metal/material is best for your daith piercing, whilst our Colour Guide shows you all of the jewel colours, as well as our stunning range of nine titanium metal colours.

TIP: Use 'Filter Your Results' at the beginning of this page to narrow down the number of matches displayed below.